CW: Conversion Therapy & RPDR7 Spoiler
We are all born with privileges & barriers. More often than not, we overlook the privilege we benefit from while denouncing the barriers that hinder us. As a good friend of mine once said, privilege is not something we have per se but rather something we don't have; it is a lack of barriers that spare us from stigma and discrimination. I am French-Canadian, biracial, male, gay, atheist of Muslim and Catholic decent, enrolled in legal studies at McGill University. Until recently, I never realized that being cisgendered could be added to that list of privileges and barriers that compose my identity. Cis-ness is a privilege because I do not face barriers to the same extent as lived by the trans*  members of our LGBTQ community: health, employment, immigration & education (just to name a few). In light of my cis-privilege and field of interest (i.e. human rights law), I am taking the platform offered by the McGill Centre of Legal Pluralism and Human Rights to call all other human rights activists to be more trans* inclusive, or trans*clusive as I titled this blog post.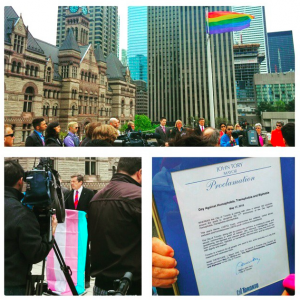 Within a week of being at the Canadian HIV/AIDS Network (the Network), I was given the opportunity to meet mayor John Tory and Queer Ontario New Democrat MPP Rev. Dr. Cheri DiNovo at a City Hall Proclamation declaring May 17th, International Day Against Homophobia, Transphobia and Biphobia. Notably, DiNovo introduced Bill 77, the "Affirming Sexual Orientation and Gender Identity Act" and is urging Kathleen Wynne to pass it by Pride in the upcoming weeks. The Act would prohibit conversion therapy for LGBTQ children, and prohibit doctors from billing Ontario Health Insurance for conversion therapy conducted on any patient. That said, Ontario isn't the only province with groundbreaking trans* developments. Only a few days later in Quebec, amazing activists such as Gabrielle Bouchard, Samuel Singer and Jean-Sébastien Sauvé were speaking to the Committee on Institutions which included the Minister of Justice at the National Assembly at special consultations and public hearings on the draft regulation concerning the Regulation respecting change of name and of other particulars of civil status for transsexual and transgender persons. An issue of great concern for volunteering at the Clinique Juridique Trans* Legal Clinic and many trans* people living in Quebec.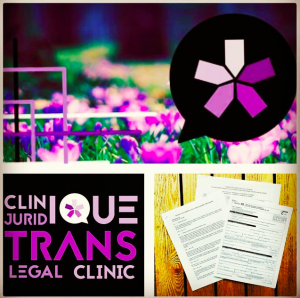 Zomming out to what western-mainstream culture has been depicting of trans* folk, who can omit to mention Caitlin Jenner's Vanity Fair cover, following in the footsteps of more mainstream trans* icons such as Lavern Cox (Time) and potentially Aydian Dowling (Men's Health Ultimate Guy Search). Be it the finale of RuPaul's Drag Race (spoiler alert) crowning Violet Chachki as the next Drag Superstar or the fact that I actually live above a drag-crossdressing shop (wildside.org) with the most eclectic and amazing landlady in all of Toronto, LGBTQ developments are in my face and have been garnering more attention than ever. However, more coverage does not mean more understanding and awareness. For this very reason, I call my colleagues within the legal and human rights fields to acknowledge cis-normativity and fight back: attend workshops, get informed.
In closing, within the various projects assigned by the Network, I have taken the time to integrate trans* oriented statistics and concerns. Did you know that the HIV prevalence rate, (i.e. the proportion of people in a population who have a particular disease at a specified point in time) among male-to-female transgender persons in North America is at 27.7%? Sorry, no Canadian-specific data is available and this is part of the problem. A problem that we can solved by being part of the trans* agenda and working towards a more inclusive environment for all. Whether it be policy analysis, academic research or just plain day-to-day conversation – keep in mind that we live in a heteronormative & cisnormative world where we often forget the benefits and hindrances of our privileges and barriers. Wouldn't it be lovely to be part of a society where our children can live their lives with dignity and respect be they trans* or cisgendered/seropositive or seronegative/LGBTQ or allies. Honoured to be a jurist of the LGBTQ community, I truly believe that we have a duty to future generations to be more trans*clusive.