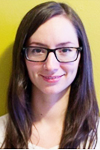 By Fiona Cooke
My first entry on this blog has turned out to be a lot more personal than I thought it would be. I didn't expect to feel as emotionally engaged in my work as I did at certain points these past few months, researching at Avocats sans frontières Québec. Because I'm "only" in Québec City, not some exotic, faraway country, I secretly feared my experience would be somewhat less authentic, or carry less meaning – that I wouldn't feel it.
However, I was starkly reminded with my second research assignment that Québec City is not so far away from big questions of human rights. The office is situated on Rue Saint Joseph Est, right in the middle of a neighbourhood that is undergoing significant gentrification. In the midst of places like Zara and Crudessence (an extremely delicious but ridiculously expensive raw vegan joint) are community kitchens and homeless shelters. People sleep on the benches lining the street on a backdrop of over-lit high fashion shops and overpriced coffee shops, where young people park themselves all day with their Macbooks.
The second research mandate I was given was to write about "Canada's experience with transitional justice" for an upcoming forum that ASFC will hold in August on Transitional Justice. Canada's experience is not typical – the "transition" is not referring to a regime change or exiting a time of conflict. However, its Truth and Reconciliation Commission, as well as the Indian Residential School Settlement Agreement, can be compared to similar settlements in approximately 40 other countries in the world.[1] Canada's Commission was tasked with collecting the stories, experiences and truths of Aboriginal people all over the country who suffered through the Indian Residential System or its intergenerational effects.
The TRC is based on the principle that true reconciliation cannot come about in the absence of truth. In most transitional justice contexts, this means the right to know "the truth about the abuses they have suffered, including the identity of the perpetrators [and] the causes that gave rise to violations."[2] In Canada, "truth" has meant more "truth-telling" by the survivors themselves – creating a record that collects their individual experiences so that the magnitude and severity of the violations can be accurately communicated. The TRC's aim was to communicate to the Canadian public in general the truth of what happened to Aboriginal people in residential schools, and to promote an understanding of the intergenerational effects of this system. The idea is that this will be the first step in healing the relationship between Aboriginals and non-Aboriginals in Canada, along with an apology from the government individual payments as part of the Indian Residential School Survivor Settlement.
The Importance of Truth-Telling
Completing this mandate affected me in three very personal ways that I was not expecting. During the exact same two weeks during which I was working on this project, my own life felt like a microcosmic reflection of what I was reading about. Out of the blue, I received an apology for something that happened to me almost two decades ago, from the person who should have prevented it. It was a very sincere, genuine apology, that I believe came from a true place of regret in this person. However, despite this, I still didn't feel like I could truly forgive or reconcile with him. While continuing my research at work, I realized why. One of the reasons was – he didn't know the half of what I had gone through. How could he truly apologize when he doesn't really know exactly what he's apologizing for? I felt like, in some very small way, I understood the impulse that drove hundreds or thousands of Aboriginal people to tell their stories at the TRC events. The need to feel like suffering has been vindicated, recognized, completely acknowledged – it feels like an essential component of feeling like justice has been done. And I'm just not sure that the TRC had the exposure it needed – every single Canadian needs to read at least the Summary of the Final Report before society can truly transform in a way that will be conducive to righting the wrongs that have been perpetrated for so long.
Apologies
Another reason for my skepticism about prospects for reconciliation: a true apology is not just words – it is actions, it is changed behaviour in the long term. A true apology can span decades. The apology that I received was followed almost immediately by an excuse, and indications that by-stander behaviour wasn't over. The apology that the Aboriginals of Canada received not only didn't address the greater narrative of colonial assimilation, but was also simultaneous to the ongoing destruction of their traditional lands, ongoing funding discrimination, ongoing institutional racism – Matt James refers to it as a "politics of distraction" from the question of restitution of stolen lands.[3] One participant said, "I won't forgive the government. There's no way in hell. I'm going to court to protect the land. […] That's why it's a lot of bullshit with the government and the apology."[4] This is why guarantees of non-repetition are fundamentally important in transitional justice contexts – societies cannot let go of their anger if the wrongful behaviour is ongoing, or likely to occur again. I felt/understood the truth of this principle in both theoretical and very personal ways throughout my research on the Canadian TRC.
First Steps
Finally – doing all this research, but especially reading the summary of the final report of the TRC, which is full of survivors' stories and the history of the indian residential system, had a fundamental impact on my understanding of the current situation of Aboriginal peoples in Canada. I wouldn't have considered myself ignorant before – I knew that the Indian Residential School existed (despite not having been taught about it at school), and I knew that Aboriginal communities had lower health outcomes than non-Aboriginals. I knew that poverty and discrimination abounded. One of my best friends is native, and I had heard of the struggles of her community. However, I don't think I truly understood the connection between the history of Canada's treatment of Aboriginal people and the current problems. Reading peoples' personal stories helped me understand that everything feeds off each other. I experienced a fundamental, if almost imperceptible shift in my reactions to hearing about Aboriginal communities' difficulties. Before, my reaction would have been one of sympathy and frustration about the current state of things. Now when I think about it, to those reactions is added a recognition of my implication in it – of my duty to try to understand the cause and effects, and to understand and respect the anger and resentment. These are legitimate feelings, on a societal and personal level, that cannot be done away with by a simple apology.
Take the TRC reading challenge –
http://trcreadingchallenge.com/
---