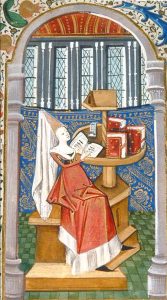 By Monika Erzsebet Berenyi
The narratives, movements, texts and happening of the past draw us inextricably into the present, and it would be careless and limiting to conceptualize the parameters and content of the women, peace, and security agenda, so expressed by UN Security Council Resolution 1325, without revisiting the lengthy history of its progenitors. The efforts, achievements and struggles of those who fought for and forged the very ideas upon which the contemporary policy stands, continue to provide us with guidance, inspiration, and reference points – which mirror the path of our past whilst reflecting the present.
In this context, I return to the medieval era – France to be precise, and draw from the story of Christine de Pizan – a writer, historiographer, and activist, whose cunning wisdom, words and legacy – cumulatively, a representative of a watershed moment in women's history. For those unfamiliar with de Pizan, her writings were instrumental for enabling the concept of equality for women in medieval France, and her works are considered to be among the earliest feminist writings, inclusive of novels, biography, autobiography, along with political, literary and social commentary. Here it is also important to highlight that the work of de Pizan should also be appreciated within a spectrum of other great medieval women writers, activists, warriors, and leaders – whose courage and work continues to anchor many a discussion regarding women's rights and equality. I recount the words and actions of Christine de Pizan, thus, in company with the likes of Marie de France, Eleanor of Aquitaine, Margery Kemp, Trota of Salerno, Hildegarde of Bingen, the women troubadours, and many others. The imperative importance of and appreciation for the stories, actions and creativity of medieval women are a source of truth and inspiration to me, – which have also come to illuminate my "contemporary" workspace at Our Secure Future (One Earth Future Foundation). Encouraged to transcend space and time, from the happenings and context of medieval France to the present foothills of Boulder County, I count myself fortunate to be surrounded by individuals, who bear a consciousness and appreciation for the past. For, as history continues to show, it is our predecessors who set the tone for bringing life, energy and movement into the formation and dissemination of new policies. Thus, at Our Secure Future, we remember the story of Christine de Pizan while we face and grapple with the continued challenges of achieving equality and peacebuilding for a better future.
Christine de Pizan was born in Venice and was raised at court in Paris. In 1380, the young Christine de Pizan married Etienne du Castel – a nobleman from Picardy, who supported her passion for education, writing and advocacy. Widowed during her early 20s, she chose to continue her passion and talent for writing, supporting herself and three children, on the fruits of her labour. In sum, she may be understood, or viewed, as one of the first women in history to have lived solely from creative endeavour.
I cite here two works, which allow me to transcend the past with the present. In The Book of the City of Ladies (Le Livre de la Cité des Dames), completed in 1405, the social importance and imperative of women's equality in the context of relationships and partnerships is exemplified both anecdotally and metaphorically. A deeper reading of this work, or perhaps, reading between the lines, brings the notion of human security to mind, such that only through equality, can networks of sustainable and lasting peace, for society, be achieved and fortified. In this respect, I am encouraged to consider the relatively of the roots of de Pizan's arguments, which highlight women's independence while advocating for uniform opportunities and equal rights through a subtle and powerful approach.
With clarity of vision for a better present and future, de Pizan showed how equal treatment and fairness, in everyday contexts, can improve the ebb and flow of life of equality of all. In this respect, de Pizan used the power of the written word at the intersection of the quotidian and Christian morality, coupled with a stylized ability to deploy rhetorical strategy, to illuminate and challenge societal behaviour and sources of women's oppression. In sum, her ability to deliver a message based in gender equality, so many centuries ago, was both insightful and intuitive – and is one which echoes her visionary ability to delineate the critical role women play in the greater process of conflict prevention, conflict resolution and peacebuilding.
I also cite the work The Book of Deeds of Arms and of Chivalry (Le Livre des faits d'armes et de chevalerie), completed by 1410. This book may be conceptualized as a strategic resource for its time, as it provided a vernacular study of military strategy and warfare, coupled with a discussion on the meaning of "just" war. The work is particularly important for the perspective it provides, suggesting arguments for why and how women could be equally knowledgeable and capable as men, to the discussion of war and conflict prevention, and to the facilitation of counsel for that matter.
To conclude, Christine de Pizan conveyed her opinions with subtlety, through the medium of the written word, supported by the framework of the illuminated manuscript. In the twenty-first century, deconstructing the lessons de Pizan chose to express, the issues she addressed, and the mechanism within which she deployed her message, affirm the breadth and depth of the peace, which informed her approach to penetrating the constraints and rigidity of patriarchal society. When considering the power of documentary media, her work and integrity of character, were groundbreaking for their time, as they sounded the alarm – by way of text, image, and action with respect to the hazards, which inequality poses to society.
I am humbled by having been able to learn about the story of Christine de Pizan, by reconnecting the meaning, integrity, and relativity of her story to the work, which informs my days at Our Secure Future – affirming that justice remains a continuous work in progress.
Image from Le Livre de la Cité des dames (Christine de Pizan reading in her study). Copyright of the Bibliothèque de Genève