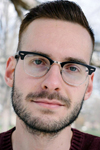 By Derek Pace
This internship has been an immense learning experience (learning curve?) already. In just a few weeks of work at One Earth Future Foundation in Colorado, I have done research on the oil and gas reserves of African and Asian countries, looked at maritime security legislation, read human trafficking reports from the US State Department, and seen just how applicable a law degree can be.
I'll be the first to admit that I was nervous I wouldn't fit in at this job. There are people here who have PhDs. Some have served in the military and some are former professors. In any case, it can be intimidating. What I do have, though, is some experience with law. Although this experience is admittedly very limited, this job has helped me discover ways in which law students who aren't too excited about the idea of being a lawyer (which is my case, as those who know me may have guessed by now) can use their education in a different way.
Researching maritime legislation in dozens of countries has been fascinating. I've learned more about maritime law in the past few weeks than I thought possible. I've learned the importance of including in legislation things like a ban on poisonous and/or explosive fishing gear and a requirement that foreign-registered fishing vessels report data to the government of the country in the waters of which they're fishing. Now, it's true that in some countries, this legislation is essentially worthless; it is neither enforced by the government nor widely known by the people. That's a problem, but having something recorded in a law is a good first step.
OEF aims to provide empirical data to foreign governments and other international actors to help countries increase maritime security. I appreciate the opportunity to be part of that project this summer. While I felt intimidated by the qualifications of my coworkers at first, I now realize that I too bring something valuable to the table: experience with law and legal research skills. These things have certainly come in handy in the research that I've done. And here, I would be remiss not to give some credit to the bilingual law program at McGill; reading legislation from Africa, much of which is written in French, has been….well, not a breeze, but certainly not out of my comfort zone. I've found that my legal research skills, and particularly my ability to read dense legal texts, are highly valued here at OEF, as the organization works substantially on African maritime law and security.
I've never worked at a law firm (yet?), so I can't truthfully say what that experience is like, but I can say that the environment in which I'm currently working is a good fit for me. The people are wonderful and accomplished; their experiences continue to impress me. The office culture is open and laid-back, not at all the kind of stuffy, corporate atmosphere that I'm doing my best to avoid. I feel fortunate to have been placed at an internship that gives me essentially exactly what I was hoping to find this summer.
On a lighter note, I've already fallen in love with Colorado. A cousin of mine spent a few years living here when I was younger; she returned when I was slightly older with plenty of stories of hiking, national parks, and various other adventures. Last Christmas during a family gathering, I told her that I was going to spend the summer working in Colorado and she immediately told me that I would fall in love with it. I didn't quite understand it then, but I did as soon as I set foot outside the Denver airport. No matter where you are, you can always see mountains– snow-capped even in late June–as far as the eye can see. Opportunities for outdoor recreation here are just about endless. Things just look different than they do on the east coast, and the change is exciting. I finally understand why my cousin gushed about Colorado, and I can certainly see myself living here after law school.