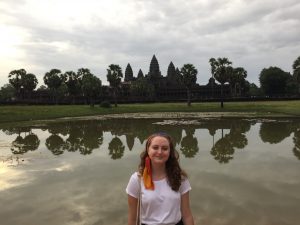 By Adelise Lalande
As I prepare for my 32 hour-long journey home to Canada, I look back on my third week of work at LICADHO, when I sat in on interviews with incarcerated teenage girls in a prison outside Phnom Penh. While I was the designated note-taker for these interview sessions, I am sure I was brought along not because of my mediocre calligraphy skills, but rather because my manager thought it would be a great learning experience. 
Over the course of two hours, I jotted down the stories of fifteen- and seventeen-year-old girls who were facing up to twenty years in prison for nonviolent, drug-related offences. Prison conditions in Cambodia are horrendous. Because bail provisions aren't being applied properly by the courts and because of the government's "war on drugs" since 2017, overcrowding is a serious issue. Some inmates share a single cell with upwards of a hundred inmates. A bed is considered to be a luxury item which few have access to. Showers are similarly rare. With daily temperatures outside averaging about 35 degrees celsius, I can only imagine how suffocating prison cells must get. 
The legal system in Cambodia fails not only defendants but also victims. In a country where 35% of the population still lives in poverty, many are unable to pay the bribes demanded by authorities in exchange for pursuing cases. Others lack the resources required to make frequent trips to court. The justice system is effectively inaccessible to those without money. 
For example, I was particularly shocked to learn that the cost of a rape kit in the country—which courts require in order to prosecute—is over US$40. Subsidised kits are available but the process for obtaining one is long and complex. For these reasons, victims of human rights abuses are often compelled to accept out-of-court cash settlements in lieu of pursuing charges. Their abusers thus get to walk free. 
In prisons, NGOs are greatly relied upon to deliver basic necessities, such as food, medicine, menstrual hygiene products, vocational training and recreational/cultural activities. As is the case in the justice system, prisons are worse for those without means. LICADHO reported in 2015 that basic commodities and individual rights come at a price behind bars. Due to widespread corruption in the system, bribes are demanded from inmates in exchange for anything from extra food and showers to opportunities for paid work and library access. LICADHO has even received reports of inmates having to pay bribes to receive medical care. 
Those behind bars are generally poor, and thus the strictest parts of the Cambodian criminal system  apply to them. This is not often the case for individuals with access to money. The same week of my prison visit, for example, a young woman who killed a young student in a hit-and-run while recklessly driving her Range Rover was released from prison after just two months in detention.  She was from a wealthy, well-connected family.
Cambodia's legal system is skewed toward the country's authoritarian leaders as heavily as it is toward its wealthy constituents. As any illusion of democracy in the country evaporates, the government has shown an eagerness to manipulate the legal system to maintain its power and quash dissent. Last week, I attended the trial of former Radio Free Asia (RFA) journalists Uon Chhin and Yeang Sothearin. The two men face espionage charges that carry a prison sentence of up to 15 years for allegedly sharing with RFA's U.S. bureau publicly available information that was purportedly "damaging" to the government's reputation. This is just one example of the government's efforts to suppress independent journalism and freedom of expression in the country via the legal system. 
Like many of my peers, I recall writing something in my cover letter for law school about wanting to learn how to use the legal system to achieve greater social justice. Prior to coming to Cambodia, I saw in law the "space for struggle to advance the social project of human liberation and emancipation… even while expressing and reinforcing the rule of the bourgeoisie," to quote from Prof. Issa G. Shivji. But since I've been here and witnessed first-hand the ways in which the law predominantly serves to preserve existing power imbalances and promote kleptocratic rule, I find it more difficult than I did in the West to brush aside law's deficiencies.
Today, I still believe the law can help achieve more equitable societies. But I enter my second year of law school  armed with greater awareness of the ways in which legal systems can also be used to further social injustice and am thus more critical of the rule of law's basic tenets than I once was.