By Reeve Kako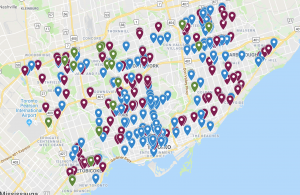 While it is often the goal of human rights advocates to focus on high-level policy reform on a national or provincial scale, the discrimination that human rights advocacy attempts to combat often finds itself manifested in often less visible small scale and local decision-making. This reality was brought to my attention when my internship at the Canadian HIV/AIDS Legal Network brought me to Toronto City Hall in preparation for a submission regarding the city's review of its bylaws for its licensing of Body Rub Parlours and Holistic Centres.
Quickly immersing myself in the issue, I came to learn that the city's licensing of erotic massage proves to be a complex and dysfunctional regime that is the result of a stalemate between efforts to provide a regulatory scheme for the erotic massage industry and those who do not want sex work permitted in the city. As it stands, the city allows the operation of 25 licensed Body Rub Parlours, who are all sanctioned to provide erotic massage to customers. However, there are also approximately 200 additional establishments allegedly offering unsanctioned erotic massage who operate under the different business license as Holistic Centres.
The 25 Body Rub Parlours are required to abide by strict regulations, including limited opening hours, mandatory medical exams of employees, and extremely restrictive zoning regulations. In comparison, the Holistic Centres, which are not sanctioned to be offering erotic massage but are often doing so anyhow, are permitted to operate under much laxer regulations that are similar to any other commercial business.
For my part in my organization's advocacy efforts, I was tasked with researching the disparate impact that the zoning regulations have had on the licensed Body Rub Parlours. The zoning restrictions on the 25 Body Rub Parlours only permits their operation in Employment Industrial Zones, as well as mandates that they also must be several hundred metres away from schools, residential lots, places of worship, and other adult entertainment establishments. These restrictions prove to be the most extreme zoning restrictions of any zoning requirement found in the city's bylaws and effectively zone the sanctioned Body Rub Parlours into unlit, underpopulated, and ultimately unsafe areas of the city.
It was hard to see the logic for such strict zoning restrictions on the sanctioned Body Rub Parlours when erotic massage is happening throughout the city in the hundreds of Holistic Centres offering unsanctioned erotic massage. This demonstrated to me that the city crafted the zoning regulations with a moral objective as opposed to one based in best practice. While the operation of Holistic Centres offering erotic massage in virtually all commercial zoning demonstrates that allowing erotic massage throughout the city does not pose a significant nuisance, the city chose to place extreme restrictions on the licensed Body Rub Parlours out a morally based desire to not directly sanction such activity. My research indeed confirmed this, after an Access to Information Request from the city provided records that confirmed a lack of significant nuisance reported against Body Rub Parlours that would justify the restrictive zoning that they currently face. To provide some perspective, the only other lot type whose zoning restrictions compare to that of Body Rub Parlours is a Propane Storage, Holding, and Transfer facility.
These findings proved frustrating to me, demonstrating the city's failure to accept best practice and evidence in favour of morally based narratives that demonize sex work and sex workers. Providing sex workers the ability to work in safe and well-lit neighbourhoods was forgotten in favour of often nebulous and unjustified concerns that having these establishments in neighbourhoods would contribute to some kind of moral decay.
Ultimately, my submission indeed highlighted these concerns and will be reviewed before year's end when the city will decide on how proceed with bylaw reform efforts. It is my hope that the city the will be persuaded by best practice and evidence as opposed to moral imperatives surrounding sex work that often prove arbitrary. Coming to understand the extreme hurdles that employees at Body Rub Parlours must endure in order to stay employed demonstrated to me the insidious impact that local decision-making can have upon vulnerable communities. In applying this to human rights advocacy as a general practice, it is essential that human rights advocacy follow-through on national policy objectives by not stopping short of ensuring that an individual's rights are protected at the often-overlooked local level.