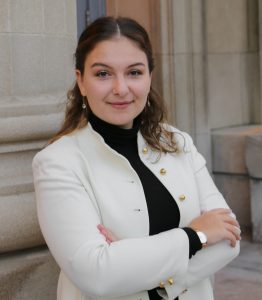 by Aliya Behar
The views expressed in this piece are my own.
My first few days in Sofia made it clear that walking through the city center feels like walking through time.
As you exit the bustling downtown Serdika metro station, you spot ancient Roman ruins scattered around the underground. Built directly atop of the old Roman city stand memories from the Bulgarian communist era, hastily modernized after the Regime's fall in 1990. The contrast is unmistakeable. The 4th Century Church of Saint George stands surrounded by the Bulgarian presidency – once bearing the hammer and sickle, now the European Union flag. Just a few steps away, the golden statue of Saint Sofia – a landmark of the city center – having only recently replaced a stone monument of Lenin.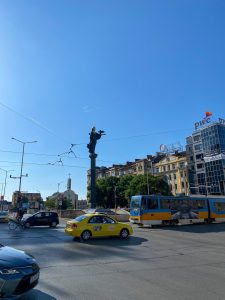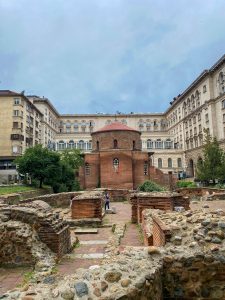 Bulgaria joined the European Union in 2007. Nonetheless, echoes from the past continue to sway the course of Bulgarian politics and public opinion. The country held three parliamentary elections last year, and now seems to be stepping towards a fourth. Just a few days ago, Slavi Trifonov – the leader of the populist There Is Such A People party – withdrew from Bulgaria's quadripartite ruling coalition due to disagreements with the prime minister's position on budget amendments and North Macedonia relations. Growing political instability and inflation rates due to the war in Ukraine pave the way for increased fear and uncertainty.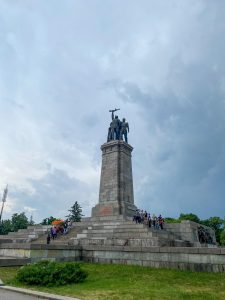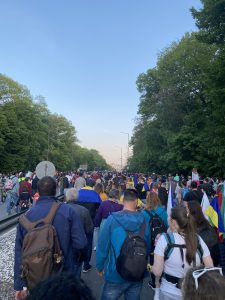 This precarity feels inseparable from the tensions I've noticed in my day-to-day – a tug of war between old and new ideologies, ways of life, and visions for society.
Most of my time is spent in the BCNL offices, surrounded by politically engaged, socially conscious, and well-educated people who work every day to fight for the protection of civic and human rights in Bulgaria. I've had countless discussions about the country's difficulties with media freedoms, rule of law, and social inclusion of minorities. I've learnt about how BCNL and other NGOs tackle these issues in a sustainable manner – awaiting results that may take years to attain. The passion and perseverance of my peers astonishes me every day.
Increased public resistance and flat-out rejection of these same fundamental principles astonishes me just as much. Over coffee and banitsa,[1] one of my peers told me about Bulgaria's rejection of the Istanbul Convention on gender-based violence due to fervent public debate resulting in the Constitutional Court asserting its unconstitutionality. The Convention sought to protect women and children from domestic violence. Instead, nationalist, conservative, and religious groups subverted the public narrative, spreading fear of the Convention's purported imposition of the "gender ideology".[2] Fuelled by religious and nationalist dogma, public outcry ensued against Western and European interference and the erosion of traditional Bulgarian values by the Convention somehow opening the door for same-sex marriage.[3] One activist I spoke with described the propagation of conspiracy theories, creating "the narrative that the child protection strategy was empowering NGOs that were supposedly helping Norwegians take children, like, it's a nonsense story."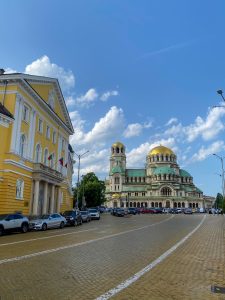 These same conservative, nationalist, and far-right ideologies pervade the geography and social structure of Bulgarian society. Just a 10-minute drive outside of the modern center of Sofia reveals communities like Fakulteta. Effectively, these communities are ghettos, regrouping impoverished and socially-excluded Roma people. Homes are dilapidated, lacking adequate sewage systems, running water, and electricity.[4] I spoke with a sociologist specializing in the Bulgarian Roma community a few days ago, discussing how Roma hatred and scapegoating run rampant across Bulgarian society. I observe terrifying similarities between far-right outlooks of the "Roma Problem" to Nazi Germany's "Jewish Question".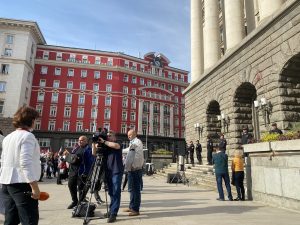 One of my coworkers attributed some of the dissonance in Bulgaria to top-down approaches to democracy, human rights, and liberal values. Though Bulgaria recently joined the EU and its laws are in accordance with European standards, large portions of the population lack proper understandings of the abstract ideas of "human rights" and "fundamental freedoms", simultaneously remaining sympathetic to its previous close ties to Russia. Fraught with an antiquated educational system and a lack of digital literacy, conspiracy theories and extremism often run unchecked.
Despite all of this, I remain inspired. Bulgarian civil society, though relatively new, is filled with passionate people – young and old – who are committed to doing good.
This past week marked the 10th annual BCNL Summer School for NGOs, uniting 19 brilliant trainees through their passions for civil society and activism. Participants gathered by the Balchik seaside for a week of intensive lectures and discussions, honing their advocacy, negotiation, and decision-making skills. They left motivated to spark positive change in their communities, equipped with the tools to do so. One participant expressed gratitude for "the opportunity to feel the power of joint efforts; the realization that there are organizations on different scales, with different missions, but we all need to work together".
Throughout my short time here, I've spoken with activists who work every day to protect human rights and vulnerable people in the country. I've learnt about strategic litigation cases for the advancement of same-sex marriage and trans rights, about grassroots initiatives uniting Roma and Bulgarian youth to empower disenfranchised communities, and about the restoration of rural chitalishta.[5] As my supervisor expresses, activists and NGOs are the "immune system of democracy". Walking through Sofia may feel like walking through time, but the hard work of civil society members paves the way for a stronger future.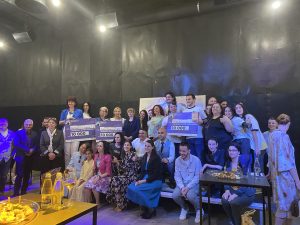 [1] Banitsa is a traditional Bulgarian snack made of cheese and filo pastry – it's delicious.
[2] See Zahari Iankov & Nadia Shabani, "Activizenship: Civic Space Watch Report 2021 Stories of Hope in Dark Times: Political Turbulances Affect Civic Space" (2021) at 5, online (pdf): Civic Space Watch <https://civicspacewatch.eu/wp-content/uploads/2022/03/Bulgaria.pdf>.
[3] See Isobel Squire, "Gender Ideology and the Istanbul Convention in Bulgaria" (May 2018) at 33, online (pdf): Projekter <https://projekter.aau.dk/projekter/files/281553551/Istanbul_Convention_in_Bulgaria_300518.pdf>.
[4] See Yuliya Shyrokonis, "EU citizenship, but no shoes: the Roma of Bulgaria" (20 January 2020), online: Open Democracy <https://www.opendemocracy.net/en/can-europe-make-it/eu-citizenship-no-shoes-roma-bulgaria/>.
[5] A chitalishte is, in short, a traditional community and education center. Chitalishta are the cultural and educational hearts of small Bulgarian villages.