by Eric Epp
I was thrilled and grateful to get a spot in this program but still laughed when I read "Saskatchewan:" after months of idly imagining international human rights work (Visas! Different Cultures! Homesickness? Spicy Food!) I was coming back to Saskatoon, where my dad grew up, my grandma lives, and my uncle and aunt have a house a few blocks in from the river with a nice backyard and dinner ready for me when I showed up. I grew up in Edmonton and spent two years living in Winnipeg, so now I can finally say I've lived in all three prairie provinces. Saskatoon is a beautiful city, sometimes (according to my mom) called the Paris of the Prairies for its multiple bridges stretching back and forth across the South Saskatchewan River. I've been trying to run and bike as often as I can along the Meewasin Trail, which extends beyond city limits on both sides of the river. More specific to me, my grandma's old Camry offers a trusty and chic mode of transportation around the city.
I'm part of a team tasked with setting up a tribunal, whose jurisdiction stems from a self-government agreement signed between the Métis Nation-Saskatchewan and Canada. This work has been a reset for me, because it recentres the core questions that get lost in first-year law school's relentless hustle and bustle. Who is the law for? Who gets to make, interpret, and apply laws? What do you do with laws that are ineffective or harmful? All these questions have easy law school answers, but in the context of Canadian law's interaction with Indigenous peoples, they are not very convincing answers. I think of "remote" communities where an entire arm of Canadian law—prosecution, defence, judge, and everyone else—arrives together on one plane like aliens, delivers legal decisions like newspapers, and flies out before dusk. Yes, law school confirms that this is law, but just maybe we should think about all this a bit. Of course, many, many, many people, especially but not just Indigenous people, have been incessantly talking, thinking, and organizing—and the biggest gift for me this summer has been being included in these conversations.
I worked as a tour guide for two years at the Canadian Museum for Human Rights, and nearly every conversation turned to Indigenous peoples, often in relation to Canadian laws. I knew how little I knew, but was constantly reminded that people on my tours almost always knew less, and I tried to lead them towards starting to understand more, as gently and imperceptibly as I could manage. Now the shoe is on the other foot, and my moments of comprehension are graciously heard and supported—but these breakthroughs are more from careful teaching than my own efforts. It is an honour to be in a room and know the least. Still, even if the problems are not secret, authentic paths forward are difficult to find and harder to navigate: Canadian law is the air we breathe, and Canadian law insists that we breathe Canadian law.
I drove up to Batoche about a month after getting into Saskatoon. My grandpa took us there once before, but I don't remember it at all because I was quite young and for some reason engrossed in an abridged version of Ben-Hur. This time, it was a gorgeous Saturday in June, the parking lot was empty, and the interpretive centre was closed. There was a chain over the start of the trail, but feeling very politically radical (it's a National Historic Site) I hopped over and wandered around for a bit. The sun beat down, the South Saskatchewan flowed along and the hills cheerfully rolled along as well, peaceful and green in every direction. I wish I had some beautiful and profound thoughts for Batoche, but the truth for me right now is that the events at Batoche in 1885 encapsulate a great dull sadness. In its expansion westward, Canada never paused to listen or hear or consider; and Batoche was a violent culmination of the path this sleepwalking state body stumbled along.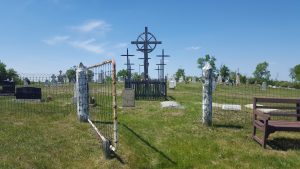 People are always talking about Indigenous resilience, which is fine and true but slots Indigenous people and peoples into a position of against rather than for. The old Métis laws existed to guarantee freedom, but freedom was a holistic concept that included a dynamic web of individual and group freedoms intertwined with individual and group responsibilities. Specific laws were expected to respond to specific situations and threats, to be discarded when no longer required. This project is a break, however small, from non-Indigenous laws regulating Indigenous lives. I'm grateful to be a part of this work during law school.