by Joshua Singer Johnson
The title of this post is taken from the Talking Heads' 1980 song Once in A Lifetime. In that song, singer David Byrne finds himself living a life that feels foreign and surprising to him. How did I get here? It is a question I find myself wondering bemusedly on an almost daily basis.
I have now been in Namibia for over two months and I frankly cannot believe how incredible the experience has been so far. This country is beautifully desolate, with otherworldly deserts, exotic animals, and the most incredible sunsets and starry skies I have ever seen.
Windhoek itself is a very small, calm, quiet, and safe city; my life here has been anything but small, calm, quiet, and safe.
I have been staying in a backpacker hostel since my arrival, and I've met a motley crew of vagabonds, European interns, energetic dogs, artists, and activists. We've had tremendous fun travelling the country, and exploring this city on foot, much to the consternation of my local friends and co-workers.
It is difficult for me to be concerned about my safety in this town though, both because it is very quiet, and because I've become something of a local celebrity after a video of me with the caption "The almighty Jesus of Nazareth is on holiday in Namibia for 5 days" went viral. It is not uncommon for me to be stopped on the street and asked to pose for a photo.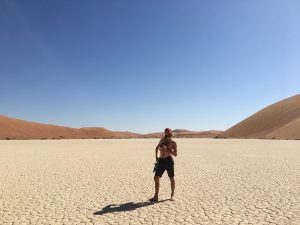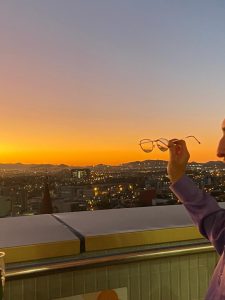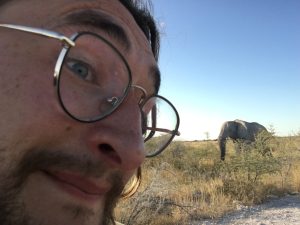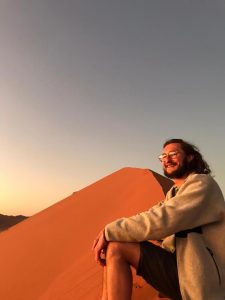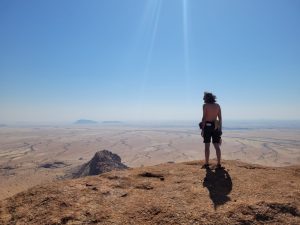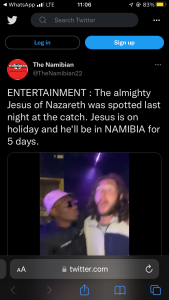 In addition to all that, my actual internship – the reason I'm here – is completely bonkers. Everyday I am bombarded with challenging, interesting, and high-profile work! In my role in the Office of the Minister of Justice, I write case briefs, memos, and discussion papers, correspond with the Government Attorney and other Ministers, write speeches for the Minister, review legislation, attend public consultations, advise the Minister. Somehow, I have essentially stumbled my way into being a political staffer.
I still pinch myself sometimes, but it seems that this life full of joy, chaos, laughter, mental stimulation, and love is actually mine.
To quote another brilliant Talking Heads song, "I guess I must be having fun!"