by Brandon Bonspiel
My summer at the Akwesasne Justice Department is over. For the last 12 weeks, I participated in the development of a Child Rights & Responsibility Law for the community. I researched the implications of Bill C-96, the act promoting the French language laws in the province of Quebec. I was a counsellor for a week at the community Cultural Youth Camp on Thompson Island. Finally, I helped build a diorama replicating the multiple geographical jurisdictions of Akwesasne. Although my experience interning will benefit my professional development, it was far more than just that. The internship allowed me to reconnect with my culture and gain focus on what truly matters to me.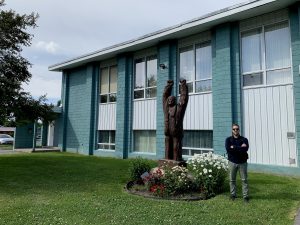 I grew up in Akwesasne's sister community of Kanehsatake. I had not visited our neighbours in over a decade, but upon arriving in Akwesasne I was welcomed with open arms and quickly treated as if I was Akwesasro:non. I was invited to Longhouse ceremonies and social events; I was asked to speak at community meetings and even to be a counsellor at the community's Cultural Youth Camp. I was encouraged to speak our language, Kanien'kéha regularly. I made friends with whom I danced, played Lacrosse, and shared traditional stories with. By the end of my time in the community, people knew who I was. I waved to people as if I had known them my entire life. Running into a friend or a colleague was not an occasional occurrence but rather a daily and common thing.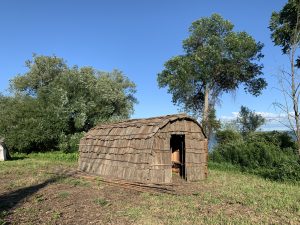 The people of Akwesasne made me feel at home. At work however, my responsibilities required stepping out of my comfort zone. The workload was heavy and complex. Although I was an intern, I was not treated like one, but I would not have had it any other way. I was responsible with creating my own agenda, my own research documents and even my own work schedule at times. At the Justice Department, there is no such thing as "training wheels", you must have the answer or find it because the community depends on it. This approach forced me to grow quickly. I no longer felt like a student. Instead, I felt like a Jurist working in the real world. Deadlines were not months away but days or hours away. Grades are non-existant, but the professional opinions of your colleagues matter above all else. This approach influenced my productivity and work quality in the best of ways. I stopped second guessing my work. I learned to read quickly and to edit even quicker. I learned to listen to my gut and to ask questions when in doubt.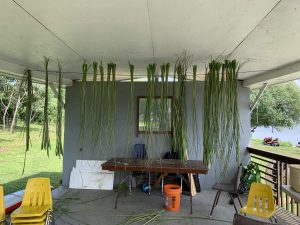 The most significant project I worked on during my internship was the Child Rights and Responsibility Law. Researching and discussing the findings of the bill took up roughly ten of my twelve weeks spent in Akwesasne. Working on the project tapped into my willingness to work with my people and to strive towards Indigenous self-determination. I have always been intrigued by Indigenous Law; the Human Rights Internship simply confirmed this curiosity.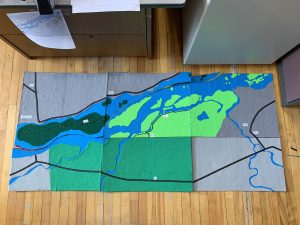 I leave Akwesasne feeling happy and satisfied. My internship accelerated my career, but it is my time spent in the community that truly made the internship memorable. Working with the team at the Akwesasne Justice Department helped me become a better student, employee, and person.