By Aziz Driss
My internship at Equitas takes place in the context of the International Human Rights Training Program (HIRTP). The HIRTP is Equitas' flagship program that has been held for the past 40 years. The program spans a period of three weeks in the month of June, is held at John Abbott College, and involves around 90 international participants. Its main objective is to bring together human rights defenders and advocates from around the world and provide them with a human rights education. This training equips advocates with the right tools to carry out their work and empowers them to enact change in their communities back home. Indeed, the participants are able to monitor their governments, keep public authorities accountable, and advocate for the human rights of their particular communities. The HIRTP was disrupted since 2019 because of the global pandemic. As a result, there is much excitement and enthusiasm for the 2023 edition of the program after a three-year absence.
In my first week at Equitas, I discovered a welcoming, inclusive, and cooperative environment that fosters productivity and positivity. As part of the onboarding training I received, I was pleasantly surprised that Equitas acknowledges that human rights originate in the West, and it can, at times, pose challenges as to their universality across cultures. This was precisely the point raised by Patrick Glenn in Legal Traditions of the World, in which he argued that human rights belong to the Western legal tradition. Regardless, Equitas highlights that it is very much universal that no one wants to be discriminated against. Furthermore, in its education program, Equitas adopts a participatory approach in an effort to dismantle colonial structures and avoid power dynamics. Once, I completed all the required training on Equitas' mission and values, I was able to dive into my work.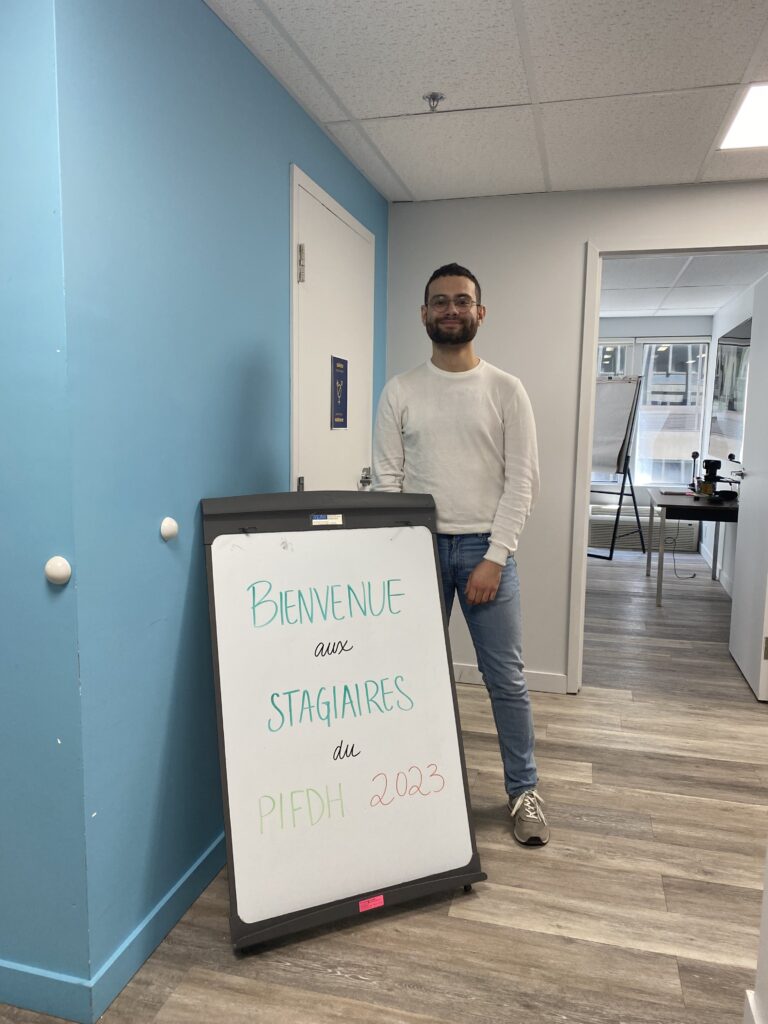 I was warmly greeted by Equitas staff on my first day
I would say that the nature of my work at Equitas is divided into two phases. First, I am playing a supportive administrative role during the pre-HIRTP preparations. Second, I will work on the field as the HIRTP takes place. The second phase will involve more hands-on work and I expect it to be the most rewarding as I get the privilege of interacting with inspiring participants from around the world. As of the publishing date of this blog, I am still in the pre-HIRTP phase. My official title at Equitas is education intern. My role is to support the education specialist in organizing the educational content that is presented to the participants during the HIRTP. My main task is to edit and format the handbook and other educational material used by participants throughout their training.
This year's HIRTP program involves 12 interns of which there are two education interns (myself included) and ten coordination interns. I was thrilled to find out that two interns are McGill Law Alumni who also participated in McGill's International Human Rights Internships Program (IHRIP).
Overall, my internship at Equitas allows me to do meaningful work that will contribute to strengthening human rights across the globe. I can now call myself a human rights educator.