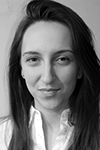 By Sarah Nixon
The views expressed in this blog are my own.
Before my placement with Nunavut Legal Aid this past summer, I spent very little time thinking about Nunavut, and even less about working in criminal defence. Now, after nine weeks working remotely and three weeks in-person in the territory, I can't get either off my mind.
Arriving in Iqaluit in early August, I was stunned at how beautiful it was. Being north of the treeline, you can see very far in the distance from almost any vantage point, and you often pass striking views of the Arctic Ocean and rolling hills while simply walking around town from point A to point B. Two of the schools in the city are up on one of the highest hills in Iqaluit, with a panoramic view of the inlet and mountains on the other side of the water. I've never seen a school with such a breathtaking view, and as one of my hosts commented, it's no wonder people might struggle to adjust to their new surroundings if they leave this incredibly scenic place for the South of Canada.
In Iqaluit, you can also walk about twenty minutes in one direction from pretty well any place in the city to find yourself somewhere that there is 'only' tundra as far as the eye can see. I use scare quotes here because the tundra itself is especially beautiful, with so many different types of moss and low shrubs growing over one another amongst the varying coloured rocks and purple saxifrage. With all of the beautiful views to take in, I was glad to benefit from late evening light (the sun set around 10:00 pm while I was there) for many long walks around Iqaluit after work.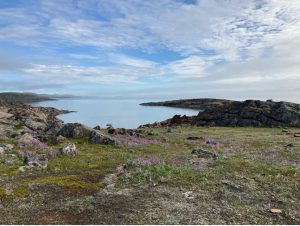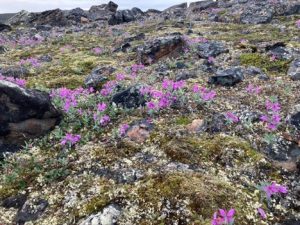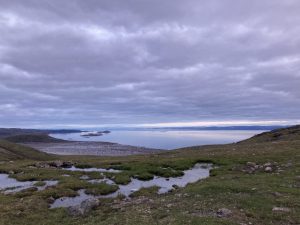 Inuktitut is very widely spoken in Nunavut, including by some of the Legal Aid staff in the Iqaluit office. It was a pleasure to hear the language being spoken around me in the halls and gathering places at the office, and to have kind staff members share new words and phrases with me.
At the same time, the lack of Inuktitut-speaking lawyers and judges in the territory creates challenges for criminalized people and actors within the criminal justice system. While live translation is available during court proceedings, it is not always accessible during client meetings, nor when community members are speaking with police during the events that lead to criminal charges. The Nunavut Law Program, which produced its first class of graduates in Spring 2021, will surely help to address this issue in the coming years. However, it does not appear that there is any plan in place to change the system of 'rotation' of RCMP officers coming from various places in the South to spend short periods of time working in Nunavut.
The challenge of communicating across this language barrier likely impedes understanding between English-speaking RCMP officers and those Nunavummiut whose first language is Inuktitut. One thing I observed repeatedly over the summer is the crucial role that police officers play in deciding when to recommend charges to the Crown. When interactions between police and community members are hampered by a language barrier, this decision-making process is surely affected.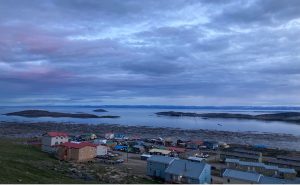 It is difficult to write much more about my work this summer as I was privileged to be directly involved with a great number of clients' cases, meaning the vast majority of my work was confidential. I can say, however, that criminal defence work is mentally and emotionally very challenging. Whether working remotely or in-person, I was exposed to many traumatic stories and experiences.
Often enough, I found I could not begin to process each story and still finish that day's work. It is certainly possible to prepare for and manage this experience, but to any future student considering this position, please plan to do so in a way that works best for you. To be clear, I hope this small 'disclaimer' does not deter any future intern, as I can assure you that the difficult parts of the placement were more than balanced by demonstrations of bravery, love, and resilience, by clients, their families, and all the staff at Legal Aid. I am grateful for the truly pivotal experience that this placement offered me, and I would be glad to discuss it in more depth with any interested applicant.