By Somaya Amiri
I have spent the last three weeks supporting the Refugee Law Project's (RLP) rapid research on the state of urban refugees, beyond the capital city, in Uganda. To collect our data, we travelled to various towns in the North and West of Uganda (in addition to Kampala). Although I cannot write much about this ongoing research project until its publication, I thought I'll take this opportunity to write a reflection piece regarding the positive aspects of conducting fieldwork during my internship, some of its challenges, and how to best prepare for it.
Values of Travelling Through Work
To start, I would like to acknowledge that the opportunity of doing fieldwork or travelling for work does not always emerge, especially when resources are limited, and organizations have to ensure that only key members of the team are mobilized to achieve project goals. In addition, not everyone feels comfortable travelling for health, safety, or other important reasons – this can also be the organization's concern for taking an intern to the field.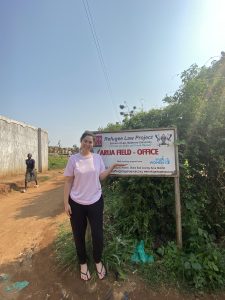 I personally was really looking forward to an opportunity to travel through work as RLP has 11 offices across Uganda, serving refugees in various districts and refugee settlements. I communicated this interest with my manager, who also suggested that travelling to some of our offices in different parts of Uganda would really enhance my understanding of the refugee management system in the country. Therefore, when I heard that there was a prospect of travelling with six members of different departments for intensive research, I happily jumped on this opportunity. Luckily, the learning was exactly what I was hoping for and was missing during the internship. I was able to support the team with focus group discussions and one-on-one interviews with refugee communities and state/non-state stakeholders. This helped me understand some of the legal and policy issues that exist in Uganda regarding urban refugees and how they translate to the day-to-day lives of refugees and the host communities.
In addition, travelling with my colleagues and spending days with them in a completely new space allowed me not just to learn more about Uganda but also about my colleagues and their work. We had members from the legal (Access to Justice), Transitional Justice, and Gender & Sexuality teams. I spent hours talking with a colleague for the first time, despite seeing them every day in the hallways. I started to learn about their hometown along one of our routes, their family history growing up as the eldest sibling in the family, and their miraculous story of getting a major scholarship by cutting out a news advertisement. Another colleague told me about their childhood activities, the games they played as a kid growing up in rural Uganda, and their experience with isolation and racism during their studies abroad. With each story and laughter we shared, I felt more connected to the people around me and learned about what motivates them and their work today, beyond their titles.
Lessons Learned
However, not everything was always rosy; there were many challenges along the way too that I wish I had prepared myself for better.
Mental Health: Firstly, mentally hearing the stories and challenges of a vulnerable community is not easy, especially when you know that there is nothing you can truly do to directly help the interviewees. I knew these cases were only stories to me, and after an interview, I had the privilege of closing my notebook and laptop and taking a step away from everything. On the other hand, for our participants, these were the challenges that they had to battle on a daily basis. However, regardless of my privileged position, I have no control over how my mind reacts to such stories, especially when mixed with my own migration traumas. To cope with this situation, I contacted my support system and connected with my family through calls. I highly recommend having a counsellor with whom you could connect virtually throughout your journey. If I had to re-do this trip, I would ensure access to online counselling throughout my stay and be more mindful of my mental health.
Routines and Adaptability: Be ready to have your routine get disturbed. We had to travel on weekends most of the time and start working the next day, which meant we weren't always well-rested. Sometimes, we also had to skip breakfast or lunch due to delays, cancellations, last-minute changes, or long interview sessions. We had to adapt to our ever-changing and sometimes unclear daily schedules. So, if you're a person that likes their routines like me, prepare yourself ahead of time. Since I was warned about these issues, I packed up protein bars, nuts, and dried fruits, which kept my tummy satisfied and my mood uplifted! Also, as a coffee addict, I made sure that before anything started, I had my coffee and my bottle of water ready to go every morning. There's always a way to find a modified version of your routine. Another important thing to note is being aware that there might be times when you'll work until late evening or have to wake up very early, which adds up to restlessness – so take the night easy. Last but not least, your shower routines might also be affected due to a lack of clean water, warm water, or just water, especially in smaller towns or villages. Make sure to find ways to mitigate this by packing some hygiene supplies such as wipes and plenty of clean underclothing in order to avoid potential health issues.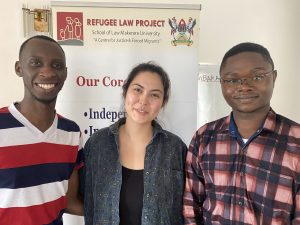 Work Friends and Saviours: Although there were challenges along the way, I still was able to really enjoy the fieldwork because of my two incredible friends and colleagues. These were two other legal interns who were part of the team, whom I already knew and am very close with. We spent hours after work talking, going for dinners, and sometimes exploring the towns. Oh, not to mention they always helped me to usher the geckos out of my room – although not without a good laugh at my fear of geckos – which allowed me to fall asleep like a baby! So, if you have colleagues who you are close to and could travel with you, be ready for some wonderful bonding time!
In a nutshell, if you get an opportunity to travel through work and gain more exposure, I would highly recommend it as it can truly add value to your learning. There will surely be some challenges along the way, but you can make it work with some support, preparation, and flexibility.