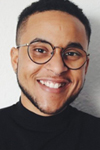 By Chrys Saget-Richard
The end of my summer internship at Equitas provided me with many invaluable personal and professional lessons. First off, I was able to hone some skills and knowledge that I already had, while being challenged to apply them in a completely different setting. Feeling valued as a team member and encouraged to ask questions and make suggestions helped me feel as though I actually had something meaningful to offer. 
I learned a lot about the impact of working in silos and the consequences that may have, especially in a virtual work setting as well as how to mitigate against them in real-time. Equitas genuinely believes in the value of mentorship, relationship building, and sustainable impact and I feel so incredibly lucky to be able to continue with them this fall to see the work we did over the summer play out. 
This internship has given me a lot to think about in terms of my personal challenges and strengths as well as in the terms of the work I would like to pursue in the future. Going into this summer, I wasn't sure if human rights work was for me in a formal sense, especially with a narrowed lens on 'lawyering', but after these past few months with Equitas, I have been introduced to so many possibilities and opportunities.
As I enter 4L, I feel a bit more at ease knowing that even for someone like me who ended up in law school and has struggled the whole way through, there may be a place for me where I can do decent work and put these degrees to good use – a feeling I am so deeply grateful for.
Thank you Equitas, and thank you IHRIP Team