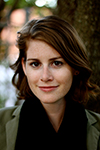 By Emily Hazlett
What to do with Guatemalan children and teens who are in need of emergency psychiatric services? This was the question that was put to me on my second day of work at Disability Rights International, in Mexico City.
My first day was spent reading about what currently happens to them. Children and teens who suffer some kind of acute mental health crisis are often placed in Federico Mora Psychiatric Hospital for adults in Guatemala City. Patients there can be tied up all day, put into isolation, receive little to no medical treatment, have no clean water and not enough food, and are abused physically and sexually by the guards. The women remain permanently locked up in a small ward to protect them from being assaulted. The hospital, which is already located in the most dangerous neighborhood in the city, is also next to the biggest jail in Guatemala. As such a number of criminals are also housed there, meaning that there are always armed guards on the premises. Staff who witness abuse are afraid of denouncing it, since a number of the perpetrators, who essentially run the hospital, have ties to Central American gangs.
And so Disability Rights International has been petitioning the Interamerican Commission on Human Rights to protect the patients in the hospital (Roger Bill chronicled the beginnings of that petition last summer on this very blog). The Interamerican Commission has now asked us for alternatives to hospitalization for children with acute psychiatric problems, a request that has thrown me into the very new world of urgent care child psychiatry.  I have been drafting a request that the children remain, as much as possible, within their families (a practice that is increasingly recognized as both cheaper and more effective in Canada and the USA).
While the subject matter of my work is often difficult, the atmosphere in DRI's small office remains remarkably positive. My colleagues are always happy to recommend weekend trips, pretend to understand my Spanish, and offer tips for tackling the insanity that is a metro system serving 22-million people at rush hour.
I feel extremely fortunate to be working with DRI on this project to protect the over 300 people with disabilities arbitrarily and dangerously detained at Federico Mora Hospital in Guatemala City. At the same time, I've just learned that DRI will soon be acting as amicus curiae at the Mexican Supreme Court, defending a young man with Asperger's Syndrome who has been placed under tutorship. The case will hopefully set a new precedent in Mexico that will help people with disabilities maintain their legal capacity as a rule rather than an exception. In short, it's an exciting time to be working here, as there are a number of really important projects going on in the office, and lots of work to be done.