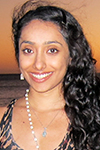 I arrived in Kianyaga, Kenya almost a month ago. The experience to date has been incredible. I am working with a great team of McGill interns and Kenyan paralegals in the rural town of Kianyaga located on the foothills of Mt. Kenya.
The encompassing region of Kirinyaga (in Kikuyu "the bright big hill" referring to Mt. Kenya) is especially mountainous with long, winding, red dirt roads. The striking red clay soils are indicative of iron oxide and porous soils often found in temperate and tropical regions. Another geological feature of the region is the mounds of dispersed volcanic rock, a reminder of the once-active stratovolcano, Mt. Kenya. The flora of this elevated region is lush and tropical, as one would expect of an equatorial environment. Banana trees are omnipresent, along with papaya, avocado, sugarcane and passion fruit.
In addition to the native vegetation, there is also an abundance of non-native species including Australian eucalyptus trees, which are chiefly used for building material as they repel parasitic termites and grow at exceptional rates. The surrounding landscape is littered with tea and coffee plantations. Many of the farms ("shamba" in Swahili), which I have visited for land disputes claims, cultivate large plots of coffee. Despite the abundance of coffee beans, Kirinyaga is a tea-drinking district (recipe: ½ milk, ½ water and black tea leaves) as much of the coffee is exported.
Local farmers constitute 80% of Kianyaga's local economy coinciding with an elevated number of land conflicts. The city centre is relatively small and consists of numerous small shops selling everyday items, such as: soap, egg, bread, baked goods, newspapers, brooms and so forth. The city centre can be traversed on foot within a half hour.
On the periphery there is a bustling market, where one can find a wide assortment of beans (80 varieties of which 6 are mainly consumed: rosecoco, mwezimwoja, mwitemania, surambaya, githeri etc.), rice (there are numerous rice paddies in the vicinity), pineapples, mangoes, avocados, onions and tomatoes, passion fruits, carrots, zucchinis, pumpkins, squash, white maize, and so forth. My daily meals often consist of cooked "githeri" beans (mixture of maize and beans) and fruit salads.
Nearly all of the land conflict respondents are farmers residing in agrarian areas, kilometers away. In order to reach them, I frequently take a motorbike, or a "piki-piki", as they are called in Swahili.  Piki-pikis are nerve wracking, as the dirt roads are unlevelled and occasionally slippery following heavy downpours. These bikes often fit 2-3 people, in addition to the driver. When travelling longer distances (e.g. for land registration in nearby towns or Nairobi) I use a "mutatu", a large van with 16 seats. The mutatu environment is unparalleled. The van is always packed with commuters and the drivers are incessantly playing Jamaican reggae, while peddlers loop the vehicle selling all sorts of knick-knacks.
Kianyaga's inhabitants are chiefly Kikuyu, the predominant ethnicity of 42 ethnic groups in the country. The Kikuyu of Mt. Kenya speak Kikuyu, Swahili and English. When conducting land conflict interviews and gathering narratives (e.g. land grabbing, theft, border disputes, land title claims, etc.) close to 80% of the meetings transpire in Kikuyu and are subsequently translated into English for me. This is regrettably one of the barriers to conducting legal research and providing legal aid in a foreign country; I often only hear a brief synopsis of the dialogue between the respondent and the paralegal.
Another challenge is the corruption of the judiciary at the local level. Many of the respondents' files, although filed correctly, are simply irresolvable as judges, block leaders and local chiefs are bribed by the opposing party. In addition to corruption, the administrative workers at the local court are sometimes reluctant to assist us with respondents' files. We have had respondents seeking documents and assistance at the court, only to be turned away for trivial reasons. When they return with a paralegal or when I am present, the employees are more willing to assist with file preparation and to provide guidance.
Corruption combined with financial restraints prevents respondents from seeking advocates. This fact alone makes it simple for perpetrators to grab land, coax respondents into entering shady, ambiguous or fraudulent contracts or simply bribe the local chief or block leaders, who are responsible for mediation.
Hence, providing marginalized individuals who are often unaware of their legal rights with an alternative economical route (e.g. legal aid) to the judiciary makes a difference or at least offers individuals hope when all hope may have otherwise dissipated.
To facilitate the project, I work with a Nairobi advocate who visits the office each week and provides legal aid to 6-10 respondents. Each subsequent week, the respondents' cases are incrementally resolved through: court filings, land cautions, appeals and so forth. I recognize that many of the cases which I am currently working on will not be resolved, or be close to resolution by the time I leave. I nevertheless hope to make a difference with my current files and in the lives of the respondents that I am presently working with.