By Stacey Smydo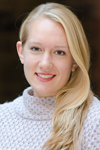 Since there are three of us working at the One Earth Future (OEF) Foundation in Colorado, I decided to write my first blog post about the organization itself. It's a very unique organization with distinctive beginnings, beliefs, and goals which definitely merits its own overview.
OEF is a non-profit, nongovernmental organization that was founded in 2007 by Montreal native and McGill alumnus Marcel Arsenault, a successful business entrepreneur who believes in investing in a better future. OEF's vision is of a world beyond war which can be achieved through governance—hence our motto of "Peace Through Governance". OEF is "relentlessly empirical": we operate based on analysis and evidence rather than moral claims. We advocate for multi-stakeholder collaboration and focus on the role of the private sector in achieving a peaceful world. (See, for example, a report recently launched by my cubicle-buddy, Victor, in which he exposes the role of the Kenyan private sector in contributing to the peaceful elections recently held in that country.) For more about OEF's vision, see here.
That all sounds lovely, but how do we do this? OEF is a "think" and "do" tank with a research and development department as well as implementation projects. OEF has five departments. Research & Development (where I work!) produces research which supports the general vision of the organization, develops new projects, and supports the work of the implementation projects.  Thus far, I have worked on a discussion paper on "bridging the gap" between academia and practitioners working in conflict organizations and on preliminary research for a new implementation project.
The oldest of the implementation projects is Oceans Beyond Piracy (OBP) (where Kyle works!) which works against maritime piracy, originally off the coast of Somalia although they have recently expanded to West Africa as well. In tandem with OBP, OEF also operates the Shuraako program (Shuraako means "partnership" in Somali) which provides loans to small and medium-sized businesses already operating in Somalia. In its work through OBP, OEF realized that, in order to combat piracy, they needed to get to the root of the problem which is that many young Somalis don't have any other way of making a living and began tackling the problem from this angle. Similarly, OEF has recently begun working in the area of illegal fishing through its Secure Fisheries program. Finally, OEF also has a Responsibility to Protect & Business program (R2P) (where Matt works!) which looks at the role of the business sector in implementing R2P. For more information on OEF's projects, see here.
So what is it that makes OEF unique? All of the interns recently had a chance to share a lunch with the Founder and talk about why he started OEF and his vision for the future. Marcel approaches everything from the point of view of business. OEF does not advance a moral argument that war is bad but rather that war is inefficient. Specifically, war is bad for business and so businesses should play a role in facilitating peace out of self-interest. This is clearly demonstrated in Victor's recent report where he found that businesses in Kenya came together to promote peaceful elections because the instability of previous election cycles was bad for their businesses.
There's OEF in a nutshell. I've been here for just over a month and will write more about my specific projects once they are further along!
Otherwise, life in Colorado is fantastic! In our time off, we've done lots of hiking and biking, been camping in Rocky Mountain National Park, been to the Red Rocks Amphitheatre, experienced our first Fourth of July (to which I erroneously referred as July Fourth and was repeatedly corrected), and have been enjoying the local culture in Boulder and Denver. It's truly fascinating to have this chance to live and work in Colorado and to learn more about its distinct culture. We have learned much from our colleagues and friends. Of course, we discuss politics and popular culture—apparently a politician's favourite sports team can make or break his or her career in politics and it's completely normal to elect a coroner—but the most interesting differences have come up in our daily conversations and I'm sure there are many more discoveries to come!