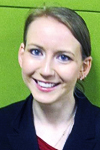 By Jessica De Santi
On my second weekend in Kolkata, I went to a street dance battle.
A few parts of the above sentence require some explanation.
First: as a member of Montreal's street dance community (though with much less involvement than I would like, such is the life of a student) and a lifelong dancer, I was not looking forward to a summer without dance. So, a few months before leaving for Kolkata, I asked my mentor whether he knew of any lockers in India, especially in Kolkata. He was able to connect me to a couple in Mumbai, who then connected me to some lockers in Kolkata. As it happened, on my second Sunday in Kolkata, there was both a locking class and a battle, so I took the opportunity and went to both.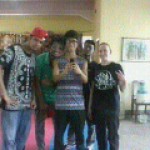 Second: dance battles are arguably an integral part of street dance culture, and hip-hop culture more generally. To oversimplify almost unforgivably, hip-hop culture finds its roots in Black and Latin communities, particularly the Bronx, in the United States in the wake of the Civil Rights Movement. While most people nowadays associate hip-hop with rapping (or MCing), there are three other main elements of the culture: graffiti, DJing, and breaking (sometimes known to outsiders as breakdancing). The dance battle comes out of this culture, and provides a space for direct competition between dancers to determine their "ranking" in the community. Nowadays many other street dance styles, such as house, locking, popping, and waacking, also incorporate the dance battle into their respective traditions/styles.
The battle I went to was called Cypherology, a name which itself evokes other aspects of the culture: the cypher, a coming-together of dancers who take turns dancing and exchanging at the centre of a circle; and the suffix "-ology," literally "study of," a recurring theme for street dancers: our commitment to studying our style, that we are students of the dance and of the culture and that we should always seek to learn and expand our knowledge.
The organisers of the event were apparently told ahead of time that I, an out-of-towner, would be dropping in to see the battle and to say I was welcomed with open arms would be an understatement. I was given the opportunity to share a bit of my dancing with the other dancers, including a spur-of-the-moment locking showcase battle against 3D_Lock, a Kolkata locker, which is one of my favourite exchanges I have ever had with another dancer. He was one of the dancers I had been connected to through the Mumbai dancers, and had convinced me to come to the battle. Dancing the same dance with someone who learned it on the other side of the world to me represents one of the best aspects of street dance: its ability to bring people together to share in something we love, no matter our background or our training, or even where we are from. Street dance truly does create a global community, and for the first time I truly understood what that meant and felt like.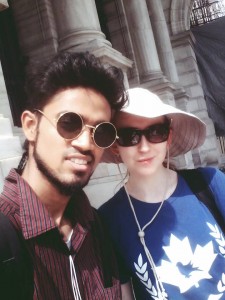 What was even more inspiring for me was watching the battles.
Montreal has an impressively strong street dance community – the city has earned the nickname "Funktreal" – and I was incredibly fortunate to be able to enter into the community by learning from some of the best dancers in Canada, and arguably in the world. The scene in Kolkata, being younger in both age of the scene and age of the dancers, is still building that same base. Despite the age and experience difference, the vibe at Cypherology was incredible. It was humbling and inspiring to see so many young dancers demonstrate so much passion and energy for their dance. Being in a room full of dancers, dancing, and great music, for the first time in the two weeks I had been in Kolkata, I felt at home.
In the culture, we often talk about the importance of values such as peace, love, unity, and having fun (see supra, but also here for a live representation). At Cypherology, on the dance floor and in conversation with other dancers, I saw, felt, and breathed those ideas, for which I am truly grateful.
Third: the street dance battle was in Kolkata, a city separated from the country where hip-hop was born by several thousand kilometers of ocean, politics, and culture. Despite the massive separation, an underground culture originating in oppressed communities in the United States has not only made it to India, but it has flourished. Thanks to globalisation and the proliferation of internet availability, dances that were once localised to particular cities in North America have reached decades into the future and across continents. As this global community continues to grow and to connect, the other scenes out there are going to need to watch out. Kolkata's holding it down, and they're coming for you.