By Emilie de Haas
My experience in Lima, Peru started just over seven weeks ago, and instantly I was welcomed with open arms into the big academic family here at the Instituto de Democracia y Derechos Humanos of the Pontificia Universidad Católica del Peru (IDEHPUCP).
This is the first time McGill University partners with the IDEHPUCP within the International Human Rights Internship Program. I am grateful to be the first McGill intern to travel to Lima and feel it is my duty to give a bit of background information about the purpose of the Instituto and how it came to be.
The IDEHPUCP: Promoter of democracy and human rights in and beyond Peru
 During the 1980's and 1990's, Peru fell victim to a violent internal political conflict between guerrilla groups and the State. Roughly 69,000 innocent victims lost their lives to violence primarily instigated by the Sendero Luminoso (Shining Path) insurgents, whose radical communist ideology called for a "people's war" against the State, the use of terror being its principal tactic to overthrow the existing institutions of power and replace it with a new revolutionary government.[i] However, Sendero Luminoso was only responsible for a little over fifty percent of the fatal casualties as a result of the conflict. While the legal declaration of a state of emergency and the use of military forces quickly became necessary to counter the insurgence, the State and its agents were also found accountable for numerous violations of people's fundamental rights.
The ethnical dimension of the conflict hardly went unnoticed: most of the violence was concentrated in the Peruvian highlands (departments of Ayacucho, Junín, Huánuco, and Huancavelica). This region of Peru was, and remains today, difficult to access, economically poor and majorly populated by indigenous Quechua speakers, a people said to be modern descendants of the Inca civilization.  Because of their ethnic origins and geographical disadvantage, many victims have recounted feeling disconnected and forgotten by their government during the period of the conflict, one man even stating in testimony "so, my town was a town, I don't know… a foreign town within Peru".[ii]
At the beginning of the millennium, a truth and reconciliation commission was established to study the extent of the violence and its effects, produce official statistics and start the reparation process for victims. In 2003, the commission published its official report entitled Hatun Willakuy, a Quechua expression that translates to "great story".  In its report, the Commission called for the establishment of an institute whose primary mandate would be to strengthen Peru's democracy and respect for human rights through academic research, professional capacitation, and the fostering of spaces for dialogue and debate between civil society and the State. In 2004, the Instituto de Democracia y Derechos Humanos was born.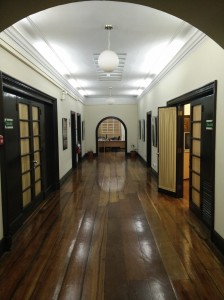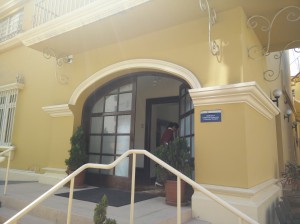 Despite being an academic unit of the Pontificia Universidad Católica del Peru, the Instituto is not located on the university's general campus. Rather, it is housed in a beautifully refurbished colonial house, with archways and wooden floors, cast-iron balconies and a lush garden out back. It makes for a very pleasant workplace, an oasis of calm greenery in an otherwise loud, bustling city.
The Instituto's team is comprised of several legal academics and law students to anthropologists, political scientists and communications majors, all working in more than one of the its six main areas of research: Indigenous rights; business and human rights; anti-corruption measures; disability rights; human trafficking and the Truth and Reconciliation Commission in the post-conflict era. Finally, the Instituto is headed by its Executive President and Chair of Peru's Truth and Reconciliation Commission, Dr. Salomon Lerner, as well as its Executive Director and Principal Professor of the Católica's Law Faculty, Dra. Elizabeth Salmón.
With this knowledge in mind, arriving at the Instituto's doorstep on my first day was a bit intimidating. Tasked with my first bit of research just hours after being introduced to the team, my jitters were quickly replaced by the impatience to delve into Peru's past and its progression to this day…
The Day-to-Day of an IDEHPUCP Intern
There have not been two days alike at the Instituto so far, except perhaps for my 9 a.m. coffee I help myself to from our little kitchen every morning.
During the first few weeks, I worked on one of the Instituto's ongoing tasks it performs regularly, the task of monitoring member states of the Organization of American States (OAS) in their compliance with the decisions rendered by the Inter-American Court of Human Rights (IACHR). Many cases that reach the IACHR have been tried in their home countries and are appealed to this court, seeking better reparations for human rights violations. Sentences from the IACHR are final and bind the accused state to providing reparations to its plaintiffs. More often than not, states are slow to comply with the Court's orders. My task consisted of surveying the orders rendered by the IACHR to the State of Ecuador and checking whether the country had provided concrete reparations to the victims of its human rights violations cases. Only then does the IACHR consider a case closed. Sadly, most of Ecuador's cases before the IACHR remain open – its percentage of compliance to IACHR's decisions rendered is very low.
I later joined a team of researchers in their work for an upcoming publication on Latin American Truth and Reconciliation Commissions (there have been fourteen in the last few decades following decline of authoritarian regimes in almost every part of the continent). The objective of this research project is to survey and compare the recommendations made by the various commissions, the degree of compliance to these recommendations by the states in question, and the institutional and social factors that may explain varying degrees of compliance to recommendations from state to state. The Instituto is partnering with similar think tanks in Latin American and Europe, as this is a joint project, the scope of which is colossal. As for myself, I am focusing on Peru's TRC recommendations and looking at whether or not there have been advances on the institutional front to correct the mistakes of the past, and on the reparations front, to determine who has yet to receive monetary, symbolic or other kinds of reparation for the losses caused by past violence.
Apart from that, I regularly assist my colleagues in translating and editing documents from English and French to Spanish and I have been sitting in during a Public International Law class at the Faculty of Law on campus, taught by Doctora Salmón from the Instituto, who, through her energetic teaching, has effectively transferred to me her passion for the subject throughout the semester. Finally, I wrote and published a mini-editorial on the crisis in Brazil following the President's impeachment last May to the Instituto's website on their Opinions page. Despite being a challenge at times, working, reading and writing in Spanish every day has been a blessing – my lawyer lingo in Spanish is now up to speed!
¡Que chévere!
"Que chévere", loosely translated to English means "how cool". Peruvians use this expression for everything. Early on, my colleagues told me I had to incorporate it to my vocabulary if I were to truly integrate into the Peruvian culture and way of life. I'd say I'm well on my way, but some parts of me will forever remain Canadian. For example, I still get confused at the one-kiss-on-the-cheek custom here when I meet someone for the first time. I still lean in for the double-cheek kiss, to the confusion of my new acquaintances. Adding to that, my colleagues get a kick out of my clothes every day, as I come into the office with flats and short sleeves, while they sport their thickest turtlenecks in an effort to stay warm despite the "cold" Lima winter outside (June weather average for Lima, 19° C).
Nevertheless, I have been lucky to experience Peru's culture, gastronomy and sights. Peru is a diverse country, its landscape ranging from the cool Pacific coast, to the beautiful highlands, to the sweltering and wild jungle. Benefiting from reasonable domestic transportation costs, I've been able to experience all three landscapes on three-day weekend trips. I've tried surfing off the coast in Lima (it's as hard as it looks!), taken in the breathtaking beauty of the Peruvian Andes (while nursing a slight headache from the altitude), and swam in the Tambopata River known for its caiman herds in the heart of the jungle. Not to mention the delicious food! Peruvians are very proud of their gastronomy, and rightfully so. There is something for everyone here: meat, fish, rice, exotic fruit, cacao, coffee, spicy, mild, you name it, they've got it, and they want you to taste it.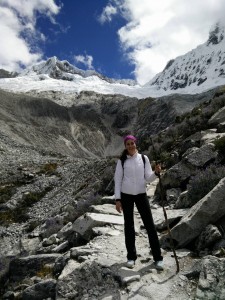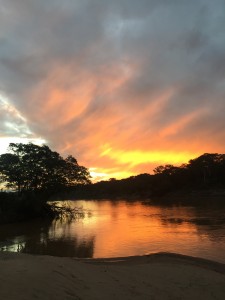 My experience in Peru comes to an end in a few weeks. But does it really end? I've taken a lot away from this internship already in terms of work habits and ideas that I will keep exploring down the road. Until then, I'll try to keep it chévere.
---
[i] Hatun Willakuy: Abbreviated Version of the Final Report of the Truth and Reconciliation Commission, 2004, p. 70