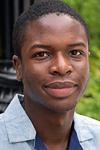 By Mohammed Odusanya
At this point in the pandemic, it might feel obvious to state that the past year has changed everything. My first foray into the legal profession has taken place mainly via Zoom and Google Docs. A reality I could have never imagined a year-and-a-half ago.
On one hand, I mourn the irreplaceable experience of working alongside, and learning from, my colleagues in person. And yet, I have found that working remotely has also given me novel opportunities to approach the work I am tasked with in a more creative fashion.
For instance, one of my first tasks at the Raoul Wallenberg Centre for Human Rights (RWCHR) was to develop a dossier on an individual whom the RWCHR might represent in the future. As I attempted to find credible sources pertaining to this individual, an (unrelated) twitter notification flashed across my phone screen.
I had a sudden realization: why not search his name on Twitter? It worked. I was able to get on the ground reporting from citizen journalists, and better gauge how the human rights issue that the individual was facing and was being perceived by citizens in that country. Furthermore, using social media allowed me to see which local NGOs – most of whom did not have large digital footprints elsewhere – were raising awareness on the issue. In sum, Twitter allowed me to find sources beyond traditional Western newspapers and human rights organizations.
Of course, this is not to say that the pandemic is the reason I was able to conduct research on Twitter. Rather, I believe that the RWCHR's approach, one which has fully embraced digital collaboration, made me more willing to consider using non-traditional research channels in my own work. In turn, I learned a valuable lesson, sooner than I might have otherwise: the fight for human rights occurs everywhere, both in offline and online spaces.
As my work with RWCHR continues, I hope to continue to learn how to aid the fight for justice IRL or via Slack, Google Docs, email, Zoom and all the other unique modes of communication that life in the pandemic has brought to us.