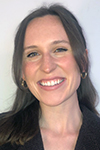 By Johanna Cline
With only two weeks left at my placement at Avocats Sans Frontières Canada (ASFC), I am incredibly grateful to have worked with such a supportive and invested team, albeit remotely, over the past three months.
Like many fellow interns, I worked from the comfort of home this summer. Although working for a Quebec organization from Montreal did not entail different time zones, like those faced by some of my McGill colleagues this summer, the experience still required making up for a lack of in person interactions. Successful communication throughout the day meant being active on Slack and reaching out for a quick video call when questions arose. My colleagues established an open environment where I felt comfortable getting in touch with any queries. Outside of clarifications related to my mandates, my colleagues were generous enough to answer questions about their respective paths in the field of law, which provided me with valuable insight into life post-McGill.
The legal team also hosted weekly "café d'équipes" where new employees, such as myself, were invited to share not only our current projects at ASFC, but also our star signs and weekend plans. The casual atmosphere at these brief meetings set a comfortable tone and made up for the water-cooler chat I missed out on due to the pandemic.
During my internship, my supervisor Claire thoughtfully chose mandates centered around my interests, particularly in health law and discrimination. I have completed projects on jurisprudence related to sexual and reproductive health as well as intersectionality. I have also had the chance to research topics I might not have otherwise studied in law school, such as the legal concept of the querulous litigant.
Not only has my internship been an opportunity to fine-tune my legal research skills, it's been an excellent chance to brush up on my French. Based in Quebec, ASFC operates primarily in French and Spanish. Reading, writing and conversing entirely in French has certainly boosted my confidence in my language capacities.
My internship at ASFC has provided me with everything I could have hoped for this summer: engaging work, friendly coworkers who doubled as mentors, and countless opportunities to branch out my pre-existing legal knowledge. While I am eager to spend my last couple weeks of summer vacation with family in New Brunswick, I will miss being engaged in the interesting projects and brilliant environment my colleagues have established at ASFC. I am very grateful to have been a part of the team if only for three months.