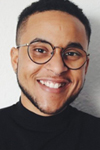 By Chrys Saget-Richard
This summer I have had the opportunity to work with the education team at Equitas, a human rights education organization based out of Montreal, that works with human rights educators and defenders around the world. 
Sharing many of my classmates' anxieties, I initially was quite concerned that I might not have all of the skills or knowledge that the organization might expect of me. To my relief however, I was immediately welcomed into a wonderfully warm, open and accommodating team. 
What I love about working at Equitas is how well they work together and consistently push themselves to learn and grow, particularly in how they figure out how to ground large systemic issues and concepts into their practice. So commonly, we find organizations who have lovely mission statements that use all the right progressive language but that upon closer analysis do not effectively reflect the organization itself.
Contrarily, I have been so delighted to witness an active effort on Equitas' part to "walk the talk". I have had the opportunity to participate in the office's most recent Cultural Safety training, the kind of training that I know is crucial but that too few organizations seek out. In these training sessions I was able to engage with the staff about our reflections on power dynamics, colonial dynamics and the systemic barriers/challenges that we face in working to contribute  to transformative social change. It has been wonderful to share space with folks who are genuinely pushing themselves and each other everyday to do and be better so that their work can be better. 
Beyond my interactions with the direct Equitas staff, the work I am doing has allowed me to exchange with different partners who generously share their own success stories in working with the organization. Not only do I have the privilege of engaging folks doing all kinds of human rights education work around the world, I also get to learn so much about their own teachings, perspectives, insights and hopes. Many people have shared success stories with me following their training experiences with Equitas, and to me, these stories stand out as evidence to the effectiveness of the approaches and methods Equitas values and promotes. 
I have learned so much during my internship, from a legal perspective, i.e learning what universal human rights actually are, the international instruments that exist to promote and protect them, as well as their histories. In the early days of my internship, I was really challenged with this paradigm shift. I have a social work and activist background, and so I understand articulations of discrimination and systemic oppression quite well, but wrapping my head around more concretized universal human rights was an interesting and intellectually stimulating exercise.
In all honesty, I thought I understood human rights going into this internship, but very quickly I was invited to dive deeper into what and how important they are, in a way that pushed the boundaries of my understanding and lead me to spend days filling the newly found gaps in my knowledge base, an opportunity for which, I am eternally grateful.
As I near the end of my internship, I have been reflecting on how this organization really emphasizes the 'human' in human rights education work and by extension the importance of humility and humbleness required to nurture and maintain the relationships that necessarily make this work possible. I still have a little time with Equitas thankfully, and am so so grateful for the opportunity to learn from and alongside the extremely dedicated and passionate people I work with.