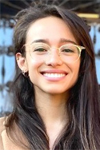 By Camila Franco
I spent my summer working for the Instituto de Democracia y Derechos Humanos de la Pontificia Universidad del Perú (IDEHPUCP), an academic institute created in 2004 in response to Peru's Truth and Reconciliation Commission (Comisión de la verdad y Reconciliación, "CVR") which sought to provide an official record of the human rights violations that occurred in Peru during the internal armed conflict between 1980 and 2000. IDEHPUCP seeks to strengthen democracy and the enforcement of Human Rights by conducting interdisciplinary trainings, engaging in applied research, public advocacy, and the promotion of public policies with civil society and the state. Over the last 17 years, the institute has developed seven fascinating lines of work: Memory, democracy, and post conflict; Business and human rights; Human mobility; Indigenous villages; the Inter-American Human Rights System; Fight against corruption; and Rights of persons with disabilities. I was fortunate enough to contribute to diverse projects in various lines of work. I primarily conducted comparative research on issues of business standards, technology implications on migrant populations, Indigenous resilience to climate change, and I wrote summary reports of discrimination cases heard at the Inter-American Court of Human Rights.
This virtual internship has come with the many familiar challenges and advantages of online work: periodic feelings of isolation and disconnectedness, time zone confusion, blurred work-life routine but likewise tremendous flexibility. I accepted this internship knowing that it would likely be remote, but I admittedly held on to the unrealistic hope that our global health crisis might be under control by the time May arrived. Once the placement was officially confirmed as remote, I grieved the idea of a summer in Lima.  I craved experiencing a new culture, being immersed in my native language, and physically connected to the Andes Mountain range, my native land. At the same time, I remained grateful to have the chance to ameliorate my professional Spanish skills, while contributing to the important mandate of a leading human rights institute in Latin America. There was also the added benefit of being able to work remotely from different locations here in Canada to accommodate for personal circumstances. I also understood that with all the hardships that this pandemic has brought, having to complete my summer internship remotely from the safety of my home was a privilege above all else. Yet as soon as I met the incredible people that breathe life into the IDEHPUCP, my longing for South America swung right back.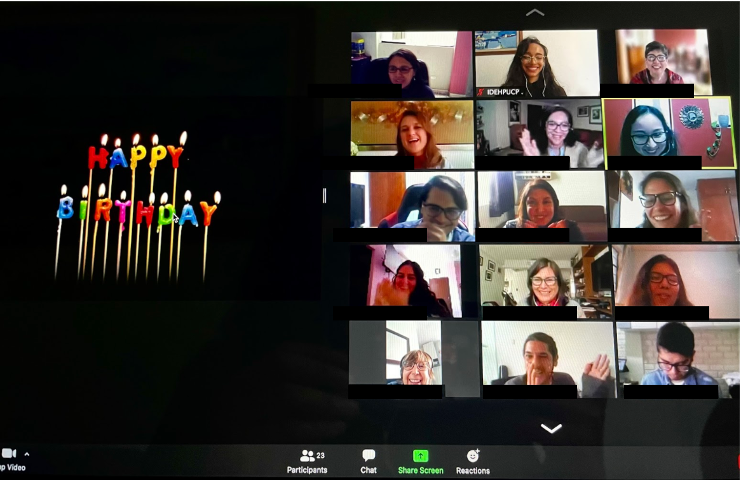 My supervisor and colleagues constantly did many things to make me feel a part of their academic family. Every single morning at 9 am on the dot, our coordinator would send a "Buenos días" text on our WhatsApp Academia chat, to which we would all reply with greetings and exchange funny memes at the start of our day. On Friday afternoons we could always expect our coordinator to ask us about our coming weekend and wish us all well. In June, the institute held a big team "birthday party" to celebrate all our covid birthdays and exchange stories about our worst and best birthday memories. Although, in my opinion, this year has provided more than enough zoom birthdays with the audio disaster that is getting multiple people to attempt singing the birthday song at once (always inevitably unsynchronized despite the sincerest efforts) this night was one of my favourites. These gestures might seem trivial, but they all made a significant difference in how supported I felt by the team I worked alongside with for three months, and it allowed us to build more personal connections, despite the 6,400 km distance.
Of course, most of our conversations regarded the projects we were working on at any given time. We had bi-weekly meetings that provided the opportunity for every line of work to update the rest of the group on ongoing tasks, deadlines and make calls for feedback and assistance. These meetings, as well as the lively WhatsApp group chat, served as essential debrief spaces for the team this summer. Particularly as Peru went through a tumultuous presidential election that erupted civil unrest, and as the country tragically ascended to the highest per capita covid-fatality rate in the world. I felt an immense sense of sadness knowing that my own colleagues could not enjoy the access to vaccination and health care that I could by staying here in Canada. It also forced me to reflect on this desire to "experience" Peru, as a foreign Colombian-Canadian, and to what extent this wish is insensitive to the reality of what it means to live in a country under a fragile democracy, and a health care system overwhelmed by the pandemic. I knew that supporting the institute from Canada was the best thing I could do in this context, and I was grateful to learn about the various areas of work that my supervisors are experts in. The memes and zoom celebrations were just a bonus which reflected the warmth of those working tirelessly at IDEHPUCP.