by Fatima Beydoun
Trigger warning: Mentions of death and state violence.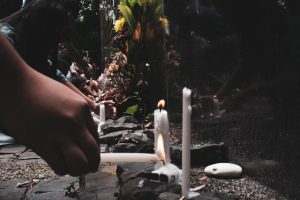 I arrived in Manila during a challenging time for human rights supporters. Just a few days before, on May 9th, the Philippines held their 2022 presidential and vice-presidential elections, something I had been aware of upon first connecting with my host organization, the Ateneo Human Rights Centre (AHRC). During my introductory zoom call with my supervisor, I remember learning through her passionate enthusiasm about a largely youth-supported political movement taking place like none other before in preparation for the election. She and many others in the human rights line of work I've met were backing Leni Robredo, the vice-president at the time running as an independent and the only female candidate in the race. Robredo's volunteer-led grassroots campaign termed the "pink revolution" was marked by mass youth volunteerism, crowdfunding and massive rallies calling for change and instilling a sense of hope to move forward from the Duterte Government.  
Anyone who's heard of the Duterte regime is bound to know about his infamous war on drugs, marked by mass arrests and extra-judicial killings, which has had a devastating impact on the state of human rights in the country. The perceived threat to human rights in the 2022 elections was not over a re-run from Duterte but from Ferdinand "Bongbong" Marcos Jr, the son of former dictator Ferdinand Marcos Sr. who is known for placing the Philippines under Martial Law from 1972 to 1986 until him and his family's exiled.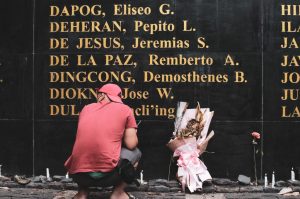 Incessant extrajudicial killings, documented tortures, forced disappearances and mass incarcerations marked this period of martial law. Although enacted to reduce the increasing separatist rebellions and violent urban crimes at the time, the dictatorship suppressed calls demanding freedom, justice and democracy, with waves of arrest for any political opposition and accusations of corruption and power-grabbing, extending even to journalists. Furthermore, the Marcos' authoritarian regime revealed unexplained wealth amassed over 21 years while the country's debt mounted, with estimates reflecting significant amounts that are still a topic of primary discussion today.
Despite all this precedent and uncontested awareness of graft corruption, the seemingly promising "pink movement" was unsuccessful in winning over the presidential seat from the Marcos family, with Robredo losing by a wide margin of 16 million votes.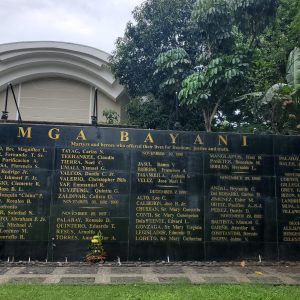 Disappointment, fear, burnout and shock are a few words to describe the feelings I sensed from my colleagues following the election results, starting from the first virtual staff meeting I joined. Each colleague invested much of their labour and energy into the movement in the prior months, coupled with the fact that their everyday work deals with different aspects of human rights and government relations, and I could only imagine the hurt they were experiencing. As people who engaged with human rights advocacy during a Duterte government for the last six years, my colleagues at AHRC found themselves in limbo on what to expect next as the new government establishes their committee appointments, many of whom the staff would inevitably have to work with. They could only be left to speculate if things would remain the same, or if they needed to brace themselves for worse. Fears of history repeating itself is a shared sentiment for many other CSO with a human rights agenda/mandate in the Philippines, creating a suspended state of uncertainty impacting their strategic planning. 
 My first in-person internship experience was attending an annual commemoration event in honour of martial law victims at the end of May in Quezon City with two of my colleagues from AHRC. It took place in a beautifully enclosed courtyard outside a landscaped memorial center called "Bantayog ng mga Bayani", or "Monument to the Heroes" in English. The memorial center honours the individuals who lived and died standing up for freedom and justice during the authoritarian Marcos regime (1972-1986), with the names of hundreds of martyrs etched into a black granite Wall of Remembrance. The event was attended by anywhere between 150-200 people, including journalists and loved ones of victims listed on the walls. With a sound speaker system in place, the program included a series of powerful speeches, family testimonies, and performances of poetry, song and music. While a reasonable portion was in English, the program was primarily in Tagalog, and my colleagues kindly took some time to translate some key moments. For example, they told me about how one speaker in his mid-50s  recounted with pride how his father was abducted during the 1988 elections because he was protecting the ballot.
What really stood out to me what the intergenerational attendance of the friends and families of some victims, where I observed what might have been four generations of relatives of a victim in a said group. One speaker was as young as seven, and I was overcome with emotions hearing him chant, "never, never again!" regarding martial law and state violence. Tragedy stays with a family through generations, and to have an awareness of this injustice at such a young age is never an easy thought to swallow.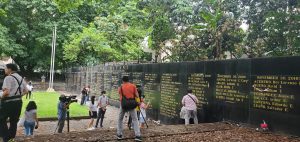 It was a beautifully moving moment of holding space for collective rage and grief for past atrocities and the unknown that is feared to come with the incoming administration. However, event speakers and organizers stressed that they would not stop sharing and passing down these stories of lost ones, no matter how much the government may try to silence or scare them into submission. These stories will live on through the younger generation, and journalists are crucial for uncovering these stories of injustices, rendering them all the more worthy of support and protection.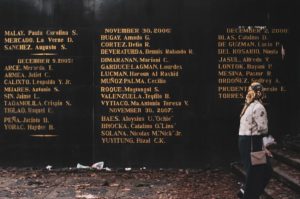 During a program break, I took some time to walk around and read through all the names on the Wall of Remembrance, where attendees had already placed some flowers and were taking what I assumed to be family pictures next to the etched names of loved ones. As I was nearing the final panel, I was approached by someone holding a camera I had spotted a few times prior during the event. She introduced herself as Daniella, and after sharing the reason for my attendance at the commemoration event as well as my summer internship, I came to learn that she was familiar with AHRC through past collaborations with the organization she was working with called IDEALS, and even kindly offered to send me resources on the topic of EJKs after I expressed my desire to learn more in my research tasks to come. Before parting ways, she showed me some candid shots she took of me while I was reading through the panels, and has permitted me to share them in this Blog post, alongside some other beautiful pictures she captured of the event. 
Afterwards, the event resumed with a concluding program of reading off of all the names of known martial law martyrs, where candles were distributed around for all attendees to light and place alongside the marble panels. The emotive instrumental music paired with the solemn reading off of names off the list as the large crowd of attendees migrated towards the Wall of Remembrance left me with goosebumps all over.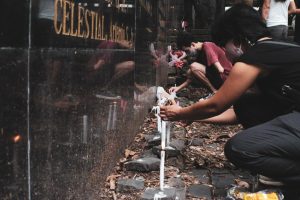 This experience was such a critical moment that I am very thankful I was able to experience early on, as it was able to inform much of what I continue to come across in my work as an AHRC intern. It provided an important lesson always to remember the raw nature of human rights work; there are victims and their loved ones most closely impacted doing the frontline advocacy work, and that it is not just some theoretical and far removed phenomenon one such as myself has the privilege of only researching. Amidst feelings of dismay and frustration, there is resilience and courage in the testimonies shared at the event, keeping human rights work alive. As I continue to engage in human rights research and advocacy, I must remember these families and treat these testimonies and statistics with the respect they deserve.